BORA BORA
, Society Islands, French Polynesia

About Bora Bora
Island of Bora Bora, with a lagoon resembling an artist's palette of blues and greens, is love at first sight. Lush tropical slopes and valleys blossom with hibiscus, while palm-covered motu circle the illuminated lagoon like a delicate necklace. Two towering peaks of sheer black rock dominate the center of the island and make an impressive backdrop to an assortment of blue waters that will dazzle the eyes.
This is the very island that had travelers hocking their worldly possessions for a romantic sojourn: nights in the island's over-water bungalows that belly up against its dreamy lagoon and days spent on the beach, nearly always in shadow of the mythically sculpted Mount Otemanu. Perfect white-sand beaches give way to emerald waters where colored fish animate the coral gardens as they greet the giant manta rays. If you're looking for challenging Bora Bora activities, such as hiking or mountain climbing, you can find these too.
Bora Bora as Honeymoon Destination (Romantic Getaway)
For those looking for a honeymoon escape packed with culture, look no further than Bora Bora. Located in the South Pacific, this archipelago of tiny islands is home to towering volcanoes, lush rainforest, coral atolls, sandy beaches and the happiest people in the world!
The relatively small island of Bora Bora is an activity giant, offering visitors the chance to experience a safari, sunbathe and swim at white sandy beaches, dive in a natural underwater park among fish and corals, experience thrilling shark feedings, or circle the turquoise lagoon by boat. Fall captive to this lush gem of a Polynesian island by sharing an intimate midnight dinner on the beach; visiting the Lagoonarium, the Diving centre, the Coral Gardens or the Leopard Rays Trench; or taking it all in from the lofty heights of Mount Otemanu.
Bora Bora's lagoon is its most treasured feature, and allows the honeymooners many opportunities to experience it in a variety of ways. Windsurf, jetski, scuba dive, snorkel, swim, bask in its warmth… the list goes on. The legends, mysteries, and romance associated with the words "Bora Bora" bring an almost mystical presence to the island.
Why Visit Bora Bora as Romantic Getaway?
Perfect white-sand beaches give way to emerald waters where colored fish animate the coral gardens as they greet the giant manta rays.
Excitement above the lagoon by outrigger canoe, Boston Whaler, wave runner, jet ski and dramatic sunset cruises aboard a catamaran sailboat.
Exploration of the panoramic overlooks found by hike or 4×4 accompanied by entertaining local people.
Discovery of the world-renowned shopping for local and international original art, Tahitian pearls, perfumes and oils, and precious wood handcrafts.
Bora BoraBest time to Visit
Bora BoraIslands enjoys a warm tropical climate, with May to October being the perfect time to visit as it is the dry season. Other months are warm too, but tend to be more humid with greater chance of tropical showers.
Best Season: May to October
Summers: November-mid April
Winters: mid April-October
Best Luxury Hotels in Bora Bora :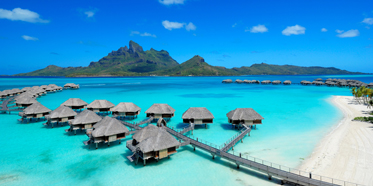 So wishing New Couples a Great Honey Moon At Bora Bora Island .